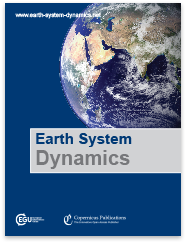 Chief editors: Somnath Baidya Roy, Ira Didenkulova, Axel Kleidon & Ning Zeng
eISSN: ESD
2190-4987
, ESDD
2190-4995
Earth System Dynamics (ESD) is a not-for-profit international scientific journal dedicated to the publication and public discussion of studies that take an interdisciplinary perspective of the functioning of the whole Earth system and global change. The overall behaviour of the Earth system is strongly shaped by the interactions among its various component systems, such as the atmosphere, cryosphere, hydrosphere, oceans, pedosphere, lithosphere, and the inner Earth, but also by life and human activity. ESD solicits contributions that investigate these various interactions and the underlying mechanisms, ways how these can be conceptualized, modelled, and quantified, predictions of the overall system behaviour to global changes, and the impacts for its habitability, humanity, and future Earth system management by human decision making.










Notice on current restrictions
To show our support for Ukraine and in accordance with current European sanctions, we have introduced a range of measures relevant to our open-access publications process.
All fees for papers from authors (first, corresponding, or contact authors) affiliated to Ukrainian institutions are automatically waived, regardless of if these papers are co-authored by scientists affiliated to Russian and/or Belarusian institutions. The only exception to the waiver for Ukrainian authors will be if the corresponding or contact authors are from a Russian and/or Belarusian institution, in that case the APCs are not waived.
Due to restrictions for authors from Russian and Belarusian institutions that are necessary to comply with European sanctions, we recommend any authors from institutions in these countries to contact us on editorial@copernicus.org for more information.